Coaches don't take over.
When you invite us into your organization, our job is to empower your team not to take it over. Our Senior Agile Coach Pedram Malek explains.
Transform Your Business
BERTEIG Delivers Virtual Agile Transformation Services for Enterprise and Business Agility
We specialize in helping your employees, managers and leaders develop knowledge, motivation and skills leading to measurable improvements in quality, speed and happiness… Real Agility™.
BERTEIG Agile Coaching with our Real Agility™ Program is uniquely designed for leaders and company stakeholders who are committed to solving real human and organizational challenges. Through close collaboration, our Agile Coaching includes systematic assessments and careful analysis paired with real-world recommendations from Canada's most respected and experienced Agile, Scrum, Kanban, SAFe, and Lean consultants.
BERTEIG Agile Coaching helps teams and middle management of teams to apply methods such as Scrum, Kanban, OpenAgile and Extreme Programming, as well as team-level function in a SAFe release train.  Your Agile transformation or Agile implementation is super-charged with our help.
Empower Your Entire Organization with Canada's Leaders in Agile Coaching, Scrum, Kanban, SAFe and Lean.
We're not here to break things.
"Going Agile" should be a transformative process. It doesn't have to be a disruptive one. BERTEIG Senior Agile Coach Jerry Doucett explains how Agile is about incremental change, not wholesale disruption.
As a Canadian Agile agency, we provide coaching with our in-house consultants and with our network of independent coaches. Most agencies and consulting organizations attempt to create a dependence on their services.
We provide complete educational programs that help you become independent of our help as quickly as possible while still maintaining excellent business results.
BERTEIG offers agile coaching and agile consulting support for organizations going through enterprise agile transformations, digital transformations and agile adoptions. Our Agile Coaching experts have multiple years of experience each working with agile methods including Scrum, Kanban and SAFe.
We can provide you with daily-rate agile coaches at the team, management or leadership level. These coaches will work within your existing transformation program or help you build your program from the ground up. Achieve REAL Agility with our help.
Our coaches agree to the Agile Coach Code of Ethics – an expanded version of the Agile Alliance's draft Agile Coaching Code of Ethics.
Create your own elite team.
Not only do we offer world-class coaching ourselves, we have also worked successfully with large companies to develop their own elite Agile coaches from within.
Is coaching right for you?
Let's talk about it!
Every organization is different. When it comes to coaching, there is no one-size-fits-all model. We can work with you to identify your biggest problem areas and help you find the solutions without disrupting your team or breaking things.
Talk to us today and let's solve your problems together!
Nima Honarmandan
Client Services
The Map of Real AgilityTM
Business Results
3x faster time-to-market
90% drop in defects and errors
2x to 10x productivity
Time for innovation
Happy stakeholders
Market leadership
Happiness Results
Customer delight
Employee pride in work
Management relief
Leadership hope
Community respect
Cultural transformation
BERTEIG Agile Coaching Experts
Our goal: Help teams become self-sufficient to deliver higher quality products, services and projects faster
#php include('team-member-rating.php'); ?>
Mishkin Berteig
Chief Executive Officer
Certified Scrum Trainer®, Path to CSP Educator®, CSP-PO, CSP-SM, SAFe Program Consultant
ICAgile Authorized Instructor, ICAgile Certified Professional (ICP)
Leadership Circle Profile Certified, Master of OpenAgile, Team Kanban Practitioner
BSc, Computational Science
Mishkin Berteig has been training, coaching and consulting for organizations since 1995. Mishkin co-founded BERTEIG in 2004. Mishkin is committed to helping individuals, teams and organizations to transform their way of working and achieve Real Agility™.
Mishkin has assisted organizations of all sizes to make the transformation from traditional methods to Agile methods (Extreme Programming, Scrum, Lean, Kanban, OpenAgile). Mishkin has helped with culture change, change management, executive management coaching, Agile management, Agile product, project and operations management, Agile teamwork and Agile engineering practices. Mishkin is a co-author of the Real Agility™Program, BERTEIG's solution for organizations to achieve higher levels of organizational agility.
Mishkin has developed and delivered Agile training both in public and in-house seminars for over 10000 people in Canada and abroad. Courses have been as short as three hour intro-style and as long as five day boot-camp-style, and audiences have ranged from junior team members to senior executives. Mishkin has been a Certified Scrum Trainer since 2005 and is the longest-standing CST in Canada.
Mishkin writes regularly for the BERTEIG blog (formerly Agile Advice) with hundreds of articles about agile methods. Mishkin is also the author of two books "Agile Advice" and "I Am Not a Great Leader".
Leadership Coaching/Training Highlights:
2001: Advised the CIO of Charles Schwab, Geoff Penny, on Extreme Programming and Agile in the IT department as to how it may improve their existing Rational Unified Process implementation.
2003: Workshop for CTO Rich Freyberg and direct reports of Schwab Capital Markets on Agile methods, focus on XP. The highlight of this experience was telling Rich to "shut up" because he was constantly interrupting the proceedings. (We had a long pre-existing relationship before that event – I didn't get fired.)
2004-2005: Consultant, coach and trainer at Capital One in Richmond Virgina. Worked closely with another consultant on a major assessment/report for the CTO Gregor Bailar and then worked with numerous senior managers as a coach and consultant. Also worked closely with a number of well-known agilists including Mary Poppendieck, Michael Hamman, Michael Spayd, and others.
2005-2006: Certified Scrum Master class for the Director and Senior Managers at Siemens, Trango division, co-trained with Jeff Sutherland. Followed up with them for the next 18 months as their Agile coach and trainer, working directly with their senior managers.
2006: Coach at RWDI working with the team on a Scrum adoption. A team-level crisis escalated to working with one of the VPs on a financial model to show the value of focus and rapid delivery.
2007: Custom training for Dan Lesage, Software Development Director at Adobe and his senior managers. Focus on solving change management problems.
2008: Lots of work with leaders and managers at Research in Motion (RIM) – BERTEIG got fired, eventually. Leadership didn't enjoy looking at cultural issues in the organization. No names here, but it was a great learning experience for us to see how deeply culture matters in attempting to do a transformation.
2009: Another bad experience: delivered a private training for OpenText to the CIO Nicholas Oddson and his senior leadership team. We totally bombed it and were not invited back. Lots of learning here too.
2009-2011: Strategic consulting, executive presentations, Agile Coach Training for RBC and the newly-formed Agile Centre of Excellence.
2010: Training, coaching and consulting at Suncor in Fort McMurray. First major engagement in a non-software Agile Transformation. Worked with Darin Zandee, Superintendent responsible for 200 people on the mine site, and his senior managers. Included one-on-one leadership coaching for Darin.
2010-2011: Group leadership coaching and workshops for Cam Crosbie, AVP then CIO of Equitable Life, and his business peers. Focus on helping Cam and his peers function effectively as a leadership team in the context of an Agile Transformation.
2011-2014: Training, coaching and consulting at Schlumberger Beijing Geosciences Centre working with Pearl Chu, Technology Centre Manager, in Beijing. Included leadership coaching for Pearl, Agile Coach Training for senior and mid-level managers reporting to Pearl.
2012-2013: Leadership coaching and consulting over 18 months for Frank Leong, VP Business Technology and his colleagues including Michael O'Sullivan, President. Included a systematic leadership development program of our own design which has evolved over time to become the "Real Agility Leadership Track" and the "Real Agility Management Track".
2013: Executive presentation on Agile Transformation for FreshBooks leadership team.
2014-2015: Multiple leadership presentations and workshops with Simon Palmer, CIO and his senior leadership team at LoyaltyOne. Focus on leading with integrity during their Agile Transformation.
2016: MAJOR HIGHLIGHT: Attended and received Leadership Circle Profile Certification™. The Leadership Circle system has informed our work with leaders ever since.
2016-2017: Focus on internal organizational development at BERTEIG and personal leadership development. Did no significant work with leaders in client organizations this year in order to focus on cleaning up our own house, so to speak.
2018-2020: Design and deliver a custom leadership program for Scotiabank over 18 months covering mindset, Agile methods, leadership development, lean thinking, community development, technical excellence, and organizational change. Roughly equivalent to an MBA focused on leadership and organizational agility. Delivered to a cohort of 21 senior and mid-level managers.
2019: Work with my own coaches to develop their leadership coaching ability, primarily focused on our engagement with Trader working with Steve Maidment, Chief Delivery Officer.
Select Client List:
Banking: Scotiabank, RBC, BMO, TD Canada Trust, CIBC, HomeTrust, Capital One, Charles Schwab, Key Bank
Energy/Resources: Schlumberger, Bruce Power, Suncor Energy, Geosoft
Insurance: Great West Life, Liberty Mutual, Equitable Ins., Empire Life, Economical Ins. Grp.
Telecom: Ericsson, Blackberry, Siemens, Telus, Rogers, Bell, Nortel
Media: Globe and Mail, Shaw Media, ZU, Canoe.ca, CBC, Glacier Media, Post Media, TV Ontario, Comcast
Loyalty: LoyaltyOne, AIMIA, Points.com, Empathica
Technology: Adobe, Blueprint, Freshbooks, Intuit, Irdeto, Kijiji, MyPlanet Digital, OpenText
Education: Xello/Career Cruising, Desire2Learn, Queens University, University of Guelph
Government: Goverment of Canada, Government of Ontario, City of Fort McMurray,
Other: App Annie, Modernizing Medicine, Trader.ca, D+H, Workopolis, 407ETR, British Counsel, PHH, Ganz, RWDI
Certifications and Accreditations:
Certified Scrum Trainer®, Path to CSP Educator®, CSP-PO, CSP-SM, SAFe Program Consultant
ICAgile Authorized Instructor, ICAgile Certified Professional (ICP)
Leadership Circle Profile Certified, Master of OpenAgile, Team Kanban Practitioner
BSc, Computational Science
Testimonials:
An engaging, thorough look at best practices behind true product ownership and working within Scrum. Expert instruction that was never boring and full of insightful learnings. It goes without saying that Mishkin knows his stuff, and is eager to teach Real Agility and Scrum to the world. – Matthew Parkinson, Director of Digital Product Management, Investors Group/ IGM Financial 2019
Mr. Berteig is a wonderful trainer and presenter of the materials covered. His experience in leading discussions around the various concepts and facilitating exercises used to feel the effect of Scrum were appropriate in relation to the audience' prior experience and knowledge of the topic. – Simonne Cormier, Training Development and Coordinator, Veterans Affairs Canada, 2019
Experience Summary
Over 23 years practising, managing and coaching Agile Process and Development
Over 14 years experience teaching Scrum (and Agile) in a classroom
Over 11 years experience applying Agile outside of technology environments
Publications
2018
2014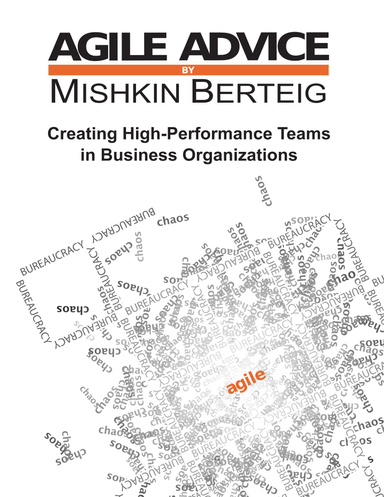 …or from the iBookStore!
…or from Amazon!
Other Interesting Facts about Mishkin Berteig
Mishkin has four children. His oldest is nearly 23 and his youngest is 11. Mishkin is, of course, extremely proud of his children who are all artists of various types… following firmly in the family tradition. Mishkin's parents, step-parents and siblings are also mostly artists.
Mishkin worked for Peters Surveys Ltd. as a junior team member in the late 80's and early 90's on and off. One of the big projects Mishkin assisted with was the Husky Oil Upgrader project just outside of Lloydminster, SK. Mishkin did both field work and site map calculation work for the grading of the site prior to construction.
Mishkin travelled to Belize on a one-month service project with a number of other youth in early 1990. Mishkin's flights were eventful including a last-minute aborted landing due to a storm around Cancun. Mishkin travelled throughout Belize including Corazal, San Ignacio and Dangriga.
Mishkin has a few hobbies and past-times that generally follow in a 10-year cycle: custom Lego building, robotics, coin collecting, mathematics, and music composition. Of these, Lego and mathematics are currently at the fore of his attention.
Mishkin grew up in Saskatoon, Saskatchewan and loves that city very much. He hasn't lived there for many years, but when he returns he often is overwhelmed by emotion as he visits favourite spots such as the University of Saskatchewan campus, the bridges and river valley, and the Broadway strip.
Presentations
"Leadership Agility – Luck, Love and Truthfulness" – 20181011 – Agile North Meetup
"Agile Architecture Master Class" – 20180515 – Private Client
"Scrum vs. Kanban vs. ADKAR vs. Kotter – Which Is Best For You?" – 20171031 – Global Scrum Gathering Dublin
"Real Agility for Everyone" – 20170921 – Private Client
"Doubling Productivity with Real Agility" – 20170613 – Project Management Institute SWO Chapter
"Launching Agile Teams – The Skills Matrix" – 20161114 – Toronto Agile Conference
#php include('team-member-rating.php'); ?>
Jerry Doucett
VP Training Services, Senior Consultant and Advisory Instructor
SAFe® Program Consultant
Project Management Professional
Accredited Kanban Trainer
Kanban Management Professional
ICAgile Certified Instructor
Scrum Alliance® Registered Education Provider
Certified Scrum Professional
Certified Scrum Master
Certified Scrum Product Owner
Certified Scrum Developer
Scrum Inc Scrum Trainer
Prosci ADKAR® Change Management Professional
B.A.A, HONS, Applied Geography, Economics Minor, Ryerson University
Jerry's Story
Teaching has always been a passion for me. I remember several of my primary school teachers saying I should consider being a teacher one day because I seemed to have an inclination for it. In high school I partnered a small start-up company where we taught computers and programming languages to youth on evenings and weekends. Much later during mid 1990's I taught several University night school classes. I loved all of it, but at the time I never thought I'd actually end up working the front of a classroom.
My first exposure to Scrum was in 2008 as a Project Manager at MapInfo Corporation. There was considerable animosity between business and IT because of project issues so we decided to try Scrum in the hope of bringing business and IT together. Eighteen months later we had transformed most of the global organization (North America, Europe and Asia) by building a scaled system of interconnected Agile services and teams. In essence we were operating as Enterprise Agile Coaches and educators but we didn't call it that – it's just what we did.
In 2010 I became an Agile Practice Lead in the Royal Bank of Canada's Agile Centre of Excellence where I spent about 1/2 of my time building and delivering training classes. This was where I realized I would be happy spending the rest of my career teaching Agility. While at RBC I taught Scrum and Agile classes to over 800 people globally which solidified my desire to teach Scrum and Agile for the rest of my career.
Over the next few years I taught and coached Scrum, Kanban, Lean and Agile at organizations like Telus, Canadian Tire, LoyaltyOne, and Sick Kids Foundation. It was rewarding but I wanted more. Then in 2016 I had the fortune of becoming an instructor and coach at BERTEIG. It's been a fantastic experience. I've delivered hundreds of classes to thousands of people and it's been very rewarding working alongside many world-class Scrum instructors and learning from them.
In January 2019 I added new height and breadth to my career when I became an Accredited Kanban Trainer (AKT) with Kanban University. Since then it has been an honour to teach and certify people in Kanban as their eyes light up when they realize it is an alternate path to Agility.
The one thing that eluded me was to become a Scrum trainer for a globally recognized certification agency. In 2016 I earned the Scrum Trainer designation with Scrum Inc. This has allowed me the privilege of providing a meaningful certification option and a balanced view of Agility by combining my own knowledge and teaching with the wealth of globally recognized experience at Scrum Inc. and BERTEIG. I'm really enjoying where this path has taken me and how I leverage it to help others achieve their own personal and professional learning goals and outcomes.
After decades working in the Software and IT industry I have finally found the sweet spot where I hope to finish my career – as an Agile trainer with the credentials to certify people with globally recognized agencies in Scrum and Kanban. I am humbled by the opportunity to represent Jeff Sutherland and his team as one of their trainers. Combining that status with my credential from Kanban University as an Accredited Kanban Trainer (AKT) as well as my hands-on experience working in the industry for over 30 years should hopefully provide a balanced and well-rounded experience for any student that chooses to join me in a classroom or learning event.
Jerry Doucett is a Strategy and Delivery expert, Business Advisor, Leadership Consultant, and Professional Trainer with over 30 years hands-on experience in improving business practices, and developing and delivering learning and development programs for software and process management initiatives.
He is currently responsible for the management, development, and delivery of public and private classes and workshops for our clients, while also serving as a Business Improvement Consultant and Coach leveraging Agile and Lean practices for several enterprise business transformations.
For well over a decade Jerry has been supporting Agile transformation strategies. On numerous occasions he has served as an integral coach, mentor, advisor and team member on several enterprise transformation leadership teams including several companies with over 50,000 employees.
Jerry has developed and delivered Agile training for over 3,500 people in Canada and abroad. He has been teaching private Scrum classes under license for Jeff Sutherland and Scrum Inc. since 2016. His tailored materials include everything from introductions to advanced role-focused topics, and target audiences from junior team members to senior executives at multinational corporations. He has contributed many blog and online articles over the last few years, and his book (published October 2018) is "The Scrum Master Guide to Choosing Retrospective Techniques".
Select Client List:
RBC Royal Bank of Canada, TD Bank, Royal Trust, Scotiabank, BMO, Concentra Bank
GFSA, London Life Insurance, Great West Life Insurance, Canada Life
Carbonite (EVault), Deloitte, TELUS, Canadian Tire, Pitney Bowes
LoyaltyOne (AirMiles Corporation), Sick Kids Foundation
MapInfo Corporation, ESI Canada, DigiMap, ExtenSys, General Motors
Hydro One, Toronto Hydro, North York Hydro, SPL Worldgroup
Certifications and Accreditations:
Accredited Kanban Trainer, Scrum Inc. Scrum Trainer, ICAgile Certified Instructor, Kanban Management Professional
Scrum Alliance® Registered Education Provider, Certified Scrum Professional
Certified Scrum Master, Certified Scrum Product Owner, Certified Scrum Developer, Professional Scrum Master I
SAFe® Program Consultant, Project Management Professional
Prosci ADKAR® Change Management Professional
B.A.A, HONS, Applied Geography, Economics Minor, Ryerson University
Experience Summary
Over 30 years in software and process development initiatives
Over 20 years of applying project management practices
Over 14 years assisting organizations to leverage Agile and Lean approaches
Over 10 years assisting enterprise Agile transformations
Testimonials:
"I wanted to acknowledge Jerry for his support and mentorship as he was pivotal as I on boarded to a new role within a new department and new Scrum team; a team newly formed and new to Agile. Jerry supported the team through training including User Story Writing and Agile estimation workshops among many. During team lift off Jerry identified that both road map and product backlog were missing from 'delivering value' stream and as a result we saw a team with constantly changing focus, a large number of product responsibilities and a lack of clarity on priorities. The Scrum process does facilitate changing priorities, but it doesn't help the team adapt. This was an extremely challenging experience but a tremendous learning opportunity for me as I had guidance and gained key insights from this experienced Agile Enterprise Coach. I am fortunate to have been able to rely on Jerry's leadership, experience and coaching. Thank you!" – Angeline Lim, Program Implementation Manager at Loyalty One
Publications
2018 – The Scrum Master Guide to Choosing Retrospective Techniques
(Currently only available on Lulu.com in ePub format.  Click the image for more information.)
Presentations
"Kanban Case Study" – 20190121 – Private Event
#php include('team-member-rating.php'); ?>
Pedram Malek
Agile Coach and Trainer
BSc. in Computer Sciences
IC Agile Authorized Trainer
Certified Scrum Professional - ScrumMaster
Advanced Certified Scrum Master
Advanced Certified Scrum Developer
Certified ScrumMaster
Certified Product Owner
Kanban Management Professional
Pedram is an enthusiastic trainer and coach. He holds a BSc. in Computer Sciences and has been developing software for over 14 years in a variety of industries, including industrial engineering automation, SaaS, e-commerce and logistics while applying agile principles to his work. Using various agile frameworks and technical practices, he trains and coaches IT leaders and teams to create capable, dynamic and focused environments that can deliver high value and quality products and services with attention to continuous improvement.
Pedram directs the development of BERTEIG's core technology that supports our vision and strategy.
Pedram joined BERTEIG in February 2017.
Certifications and Accreditations
IC Agile Accredited Trainer
Certified Scrum Professional, Certified Scrum Developer, Certified Scrum Master, Certified Product Owner
Kanban Management Professional, Team Kanban Practitioner,
Leading SAFe
BSc. in Computer Sciences
Selected Client List
autoTrader, Scotiabank. CIHI (Canadian Institute of Health Information), Bell Media, Bell Canada, Infor, First National Bank, SCI Marketview, Carfax
Experience Summary
14 years experience delivering technical solutions
7 years experience leading teams
10 years experience applying Agile engineering techniques
#php include('team-member-rating.php'); ?>
David Vicentin
Senior Agile/Lean Consultant
David is an experienced Agile coach who has worked with teams at Coca-Cola, Mastercard, Canada Life, Scotiabank and Canadian Institute for Health Information (CIHI). David is certified as a Leadership Circle Coach (LCP), Certified Scrum Professional (CSP-SM), PMI Agile Certified Practitioner (PMI-ACP), Lean Six-Sigma Master Black Belt (LSSMBB) and process consultant with experience growing consulting businesses.
David Vicentin has delivered Operational Excellence and Agile implementation for the past 15 years as a management consultant.  His clients come from diverse industries in North America, South America and Europe.
Working at different organizational levels from staff to senior management, his focus is to achieve sustainably higher results.  David has trained, mentored and coached thousands of people for many businesses, with a focus on increasing performance and improving business results.  David is a consultant, coach, facilitator, and trainer at all organizational levels.
As an Industrial Engineer, Master in Economics and Finance and Master Black Belt in Lean Six Sigma, his ability to evolve people results in service delivery which increases value, reduces cost and improves both quality and productivity for his clients.
Facilitator of more than 250 projects using DMAIC, DMADV, RCA, Kaizen, FMEA and SCRUM, he focuses on cost reduction, quality and productivity improvements, cash flow improvement and customer satisfaction.
Recently, David has increased his focus on business results with coaching and training on design thinking, lean startup, marketing, sales, product management and business strategy.
David has lead projects and workshops in marketing, materials/logistics, manufacturing, purchases, finance, sales, R&D and information technology areas.  David specializes in Productivity Techniques, Management Systems and, Finance focused to increase business results.
David coordinates and leads projects in many countries as he is fluent in English, Portuguese and Spanish.
David joined BERTEIG in July 2017.
Select Client List:
Financial Services: HSBC, Mastercard, Scotiabank, Great West Life, Concentra
Automotive: Rolls Royce, Trader.ca, Alberta Motor Association (AMA)
Healthcare: Sick Kids Foundation, Canadian Institute for Health Information (CIHI)
Other: Coca-Cola, LoyaltyOne, SITA, HOOPP
Certifications and Accreditations:
Team Kanban Practitioner (TKP), Kanban Management Professional (KMP)
Certified Scrum Professional (CSP-SM), Advanced Certified Scrum Product Owner (A-CSPO)
Lean Six Sigma Master Black Belt (LSSMBB), Design Thinking Trainer (DTT)
Leadership Circle Profile (LCP), Agile Certified Practitioner (PMI-ACP)
BSc. Production Engineering (POLI-USP), Master in Finance and Economics (Fundacao Getulio Vargas – FGV)
Experience Summary:
Over 15 years' experience in designing and delivering training, on business topics, Lean Six Sigma and Agile Methods.
Testimonials:
"Derived from the fact that our organization has approximately 100,000 employees, it is an organization with a lot of structure, processes, protocols, therefore the projects carried out have long and bureaucratic project flows, however, due to needs and priorities we challenge ourselves to be able to perform a disruptive technological tool, with the objective that thousands of our employees are empowered and have a virtual library of contents and information that will help them to fulfill their roles.
With this Agile accompaniment we have broken paradigms, in this specific project, Agile techniques (Scrum) has given us the necessary support to convince employees that change of mentality, mainly with a collaboration approach, incremental deliveries, better way in the form of negotiation with internal clients, external (suppliers) and the most important thing as we do from day 1 more tangible results.
Thanks to Coach David we have found the right paths in the way that intervenes and guides us promptly in the project." (translated from Spanish) – Andrés L Nava, Talent Development Leader, Coca-Cola
Our team was recently awarded provincial recognition at the Ontario Public Service Project Management Excellence Awards ceremony. This is a remarkable accomplishment that could not have been achieved without BERTEIG's support.

Andrea Bonner, Senior Project Manager, Business Consulting Services, Land & Resources I&IT Cluster, Ontario Ministry of Natural Resources
At the six-month point in adoption of REALagility, the team was united in their vision, and had come to a point of capacity that no one had imagined.

Darin, Supervisor, Suncor
Technology is not easily translated into something the business can understand. Now, we've created a culture of transparency. The work our departments do has become a conversation piece.

Neeraj Mathur, Vice President, Business Intelligence & Information Technology, SickKids
16+
Years of
Agile Coaching
You're in Good Company
BERTEIG clients